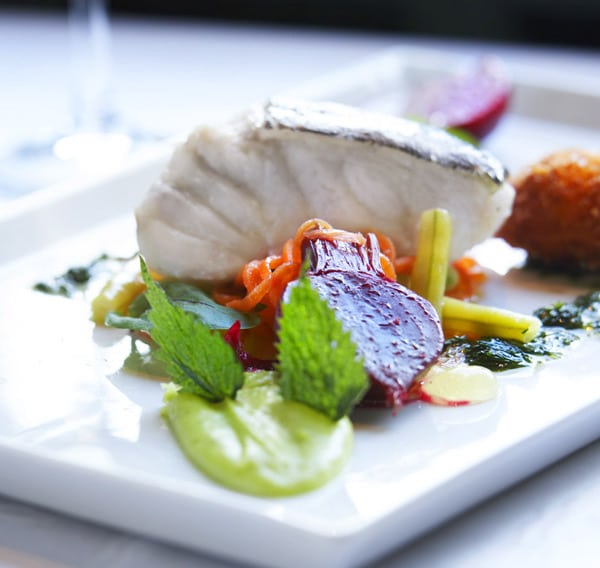 Ahlström's shellfish plateau
Ahlström's shellfish plateau – pleasures on all levels!
SMALL  295:- p.p
Dill cooked langoustines, shrimps and
blue mussels cooked in wine
LARGE  695:- p.p
Half lobster, langoustines cooked in dill, fresh shrimps,
crab and blue mussels cooked in wine
DE LUXE  845:- p.p
Half lobster, oysters, langoustines cooked in dill, fresh shrimps,
Blue mussels cooked in wine, cured salmon and bleak roe
"BUFFET"   price of the day
Eat as much as you would like from moules marinière, dill cooked
langoustines, shrimps, blue mussels cooked in wine and crab claws
The seafood is served with cocktail sauce, aioli, matured cheese and freshly baked bread.
OYSTERS 1PC/6PC/12PC
Fine de Claire 35:-/185:-/345:-
Todays harvest   price of the day

LOBSTER, COOKED AU NATUREL   255:-/445:-
FRESH SHRIMPS   price of the day
LANGOUSTINE, COOKED AU NATUREL   50:-/pcs
CRAB CLAWS, COOKED AU NATUREL,   3PC 75:-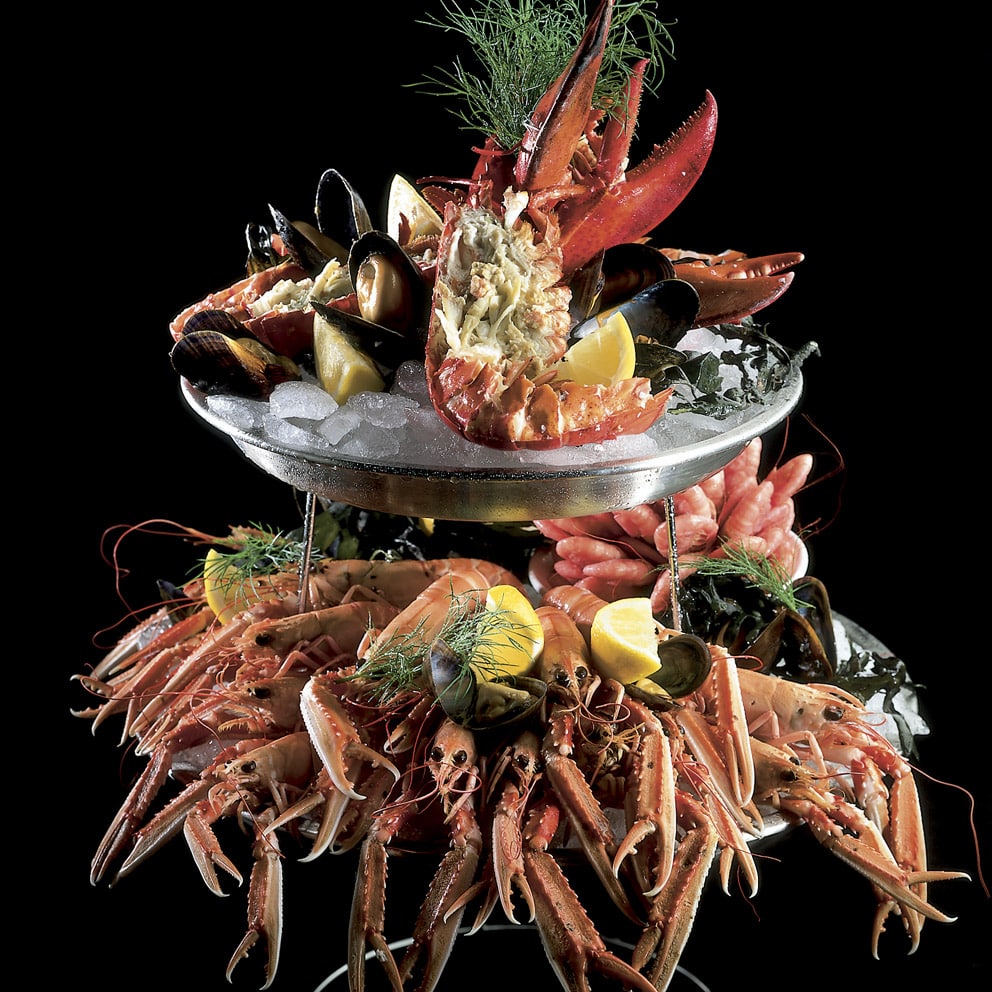 FISH AND SHELLFISH BUFFET – 495:-
Children between 7-13 years of age eat for half the price, 245:-
Fridays between 16.00 – 19.00 and Saturday between 12.00 – 16.00 we serve our very popular fish- and shellfish buffet. Fresh fish lie side by side with wonderful langoustines, shrimps, mussels and much more. We also serve à la carte until 22.00
The shellfish buffet is a classic feature at Fiskekrogen. All the fresh and delicate shellfish are lined up at the shellfish bar, ready for you to dig in.
Fiskekrogen may change, but of course we'll keep our most popular dishes!
Starters
LOBSTER SOUP 225:-
Pan fried lobster, a variation of pear and hazelnuts
LOBSTER SALLAD 295:–
Sundried tomato dressing, "sultana" raisins, pine nuts, avocado and crispy bacon
KING CRAB 225:-
Black garlic, ink crisp, browned butter, soy
MOULES MARINIÈRES 185:–
TERRINE OF FOIE GRAS 225:–
Served with butter fried brioche and apple
Main Course
AHLSTRÖM'S CHOICE  price of the day
Straight from the fish market
FLATFISH OF THE DAY  price of the day
Accompaniments of the season
TURBOT  price of the day
On the bone or as a fillet. With baked egg, horseradish, beets, potatoes and browned butter
POACHED HALIBUT 395:–
Radish, pickled onion, trout roe and hollandaise sauce
AHLSTRÖM'S COD FISH BALLS  195:–
Caviar sauce, potato puree and chives
GRILLED CELERIAC (VEG)  285:-
Pak choi, mushroom, onion, shiitake
VENISON 375:-
Parsley root, mushroom, lingonberries, game jus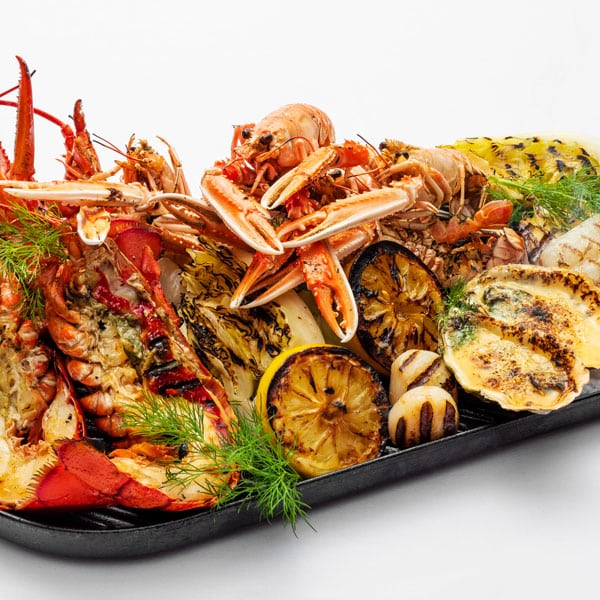 Together
So tasty that you can't decide? Order multiple dishes and share! Or choose some different small dishes for yourself, for a greater taste experience. Our staff will gladly guide you.
SCALLOP "ROSSINI" 135:-/Piece
With foie gras, truffle and sherry
GRATINATED SCALLOP 135:-
Brandy, piemento and manchego
MOULES MARINIÈRE 185:-
GARLIC GRATINATED LANGOUSTINE 60:-/ Piece
GRATINATED "LA" OYSTER 50:-/ PIECE
Cognac, spinach, aioli and Abondance
GRATINATED LOBSTER 295:-/495:-
Mushrooms, lobster bisque and matured cheese
FISKEKROGENS WHOLE ROSTED FISH    price of the day
Served with accompaniments of the season. Minimum 2 persons
Ahlström´s gratinated platter 
SMALL 195:-/p.p
Garlic baked langoustine, "LA" Oyster, gratinated scallop with brandy, piemento and manchego
LARGE 595:-/p.p
Garlic baked langoustines, "LA" oyster, gratinated scallop withbrandy, piemento and manchego
and half gratinated lobster
MIXED GRILL    price of the day
Lobster, Langoustines, Oysters, Turbot, Cod, Scallop. Madeira jus, Hollandaise, Aioli
Served with accompaniments of the season Minimum 2 pers.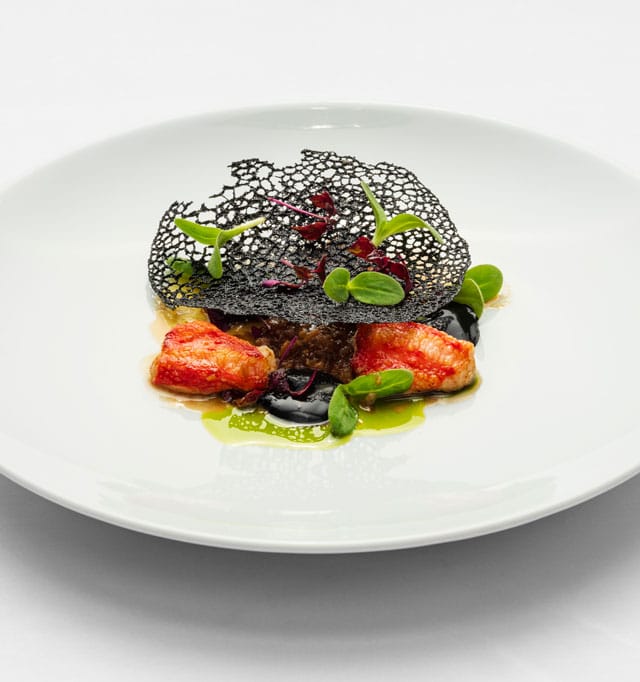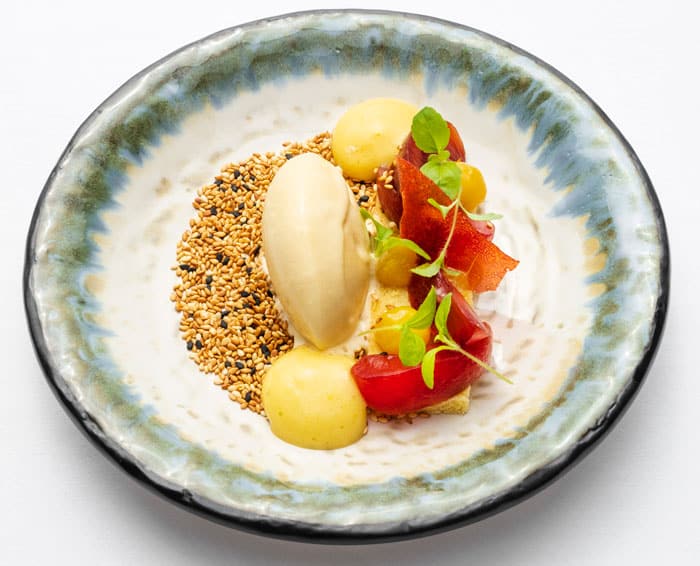 Desserts
To finish the dinner with something sweet is the finale of your meal. For those who prefer a more salty finish we offer a selection of beautiful cheeses with condiments.
COCONUT  135:-
Coconut, pear, sudachi, tagetes
LINGON 135:-
Lingonberries, thyme, milk
"MARÄNGSVISS" 135:-
Vanilla, banana, chocolate, meringue
VARIATION OF PETIT FOURS 125:-
3 PIECES OF CHEESE  145:- / 55:- EACH
Cheese 3 pieces, with marmelade and fruit bread
1 SCOOP OF ICE CREAM/ SORBET 55:-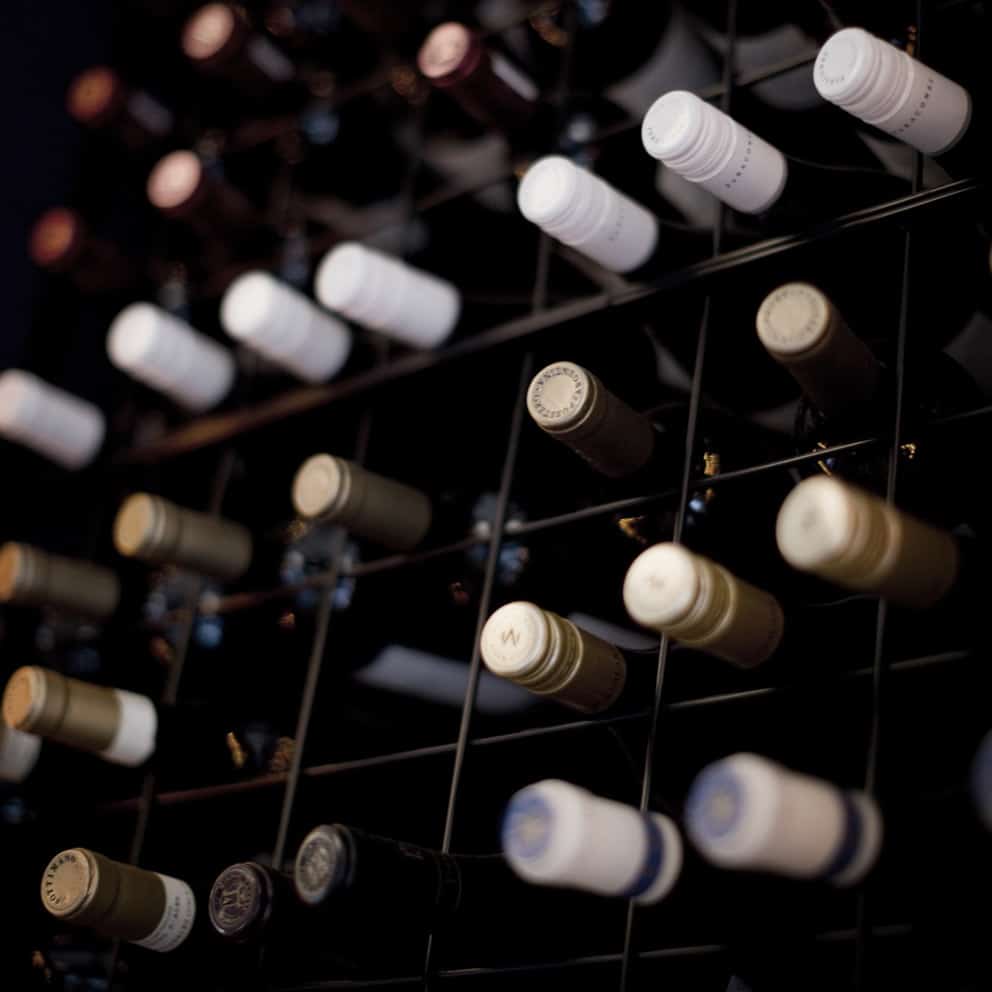 The wine cellar at Fiskekrogen offer flavours from all the corners of the world and from large and well known vineyards as well as small, exciting and innovative ones. Here you find imaginative innovators, steady classics, you'll re-discover old favorites and be introduced to wonderful new bouquets.
Wine making and wine knowlegde are great arts and our sommelier is very competent in this area. Let us guide you through the wine list and teach you how to see the wine from a new perspective.
We will help you choose the food and wine that combine to give you an unforgettable experience.